Loyalty Programme Platform
Launch Your Customer Reward Programme Without Code
White label rewards portal that feels like your own and an API-based Reward Engine to configure & trigger incentives.
Get a free demo >
Trusted by top recurring revenue brands to get more customers & increase retention.
Points, Tiers, Referrals— Managing Modern Loyalty Mechanics Is Hard
Your programme needs to offer the right incentives at the right time to the right members to drive desired commercial behaviour. As well as provide a seamless redemption experience along the way.
You Need a Reliable Loyalty Platform That Fits Your Programme Shape
Member portal
Give Your Programme Members A Place To Access Rewards
White-label member portal is where your programme members can browse rewards, see and redeem their incentives.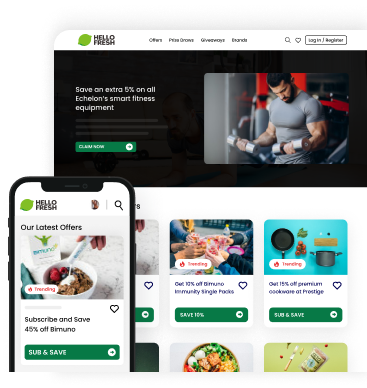 Customisations that make it feel like your own
Messaging
Branding
Email templates
FAQs
Domain
Banners
Content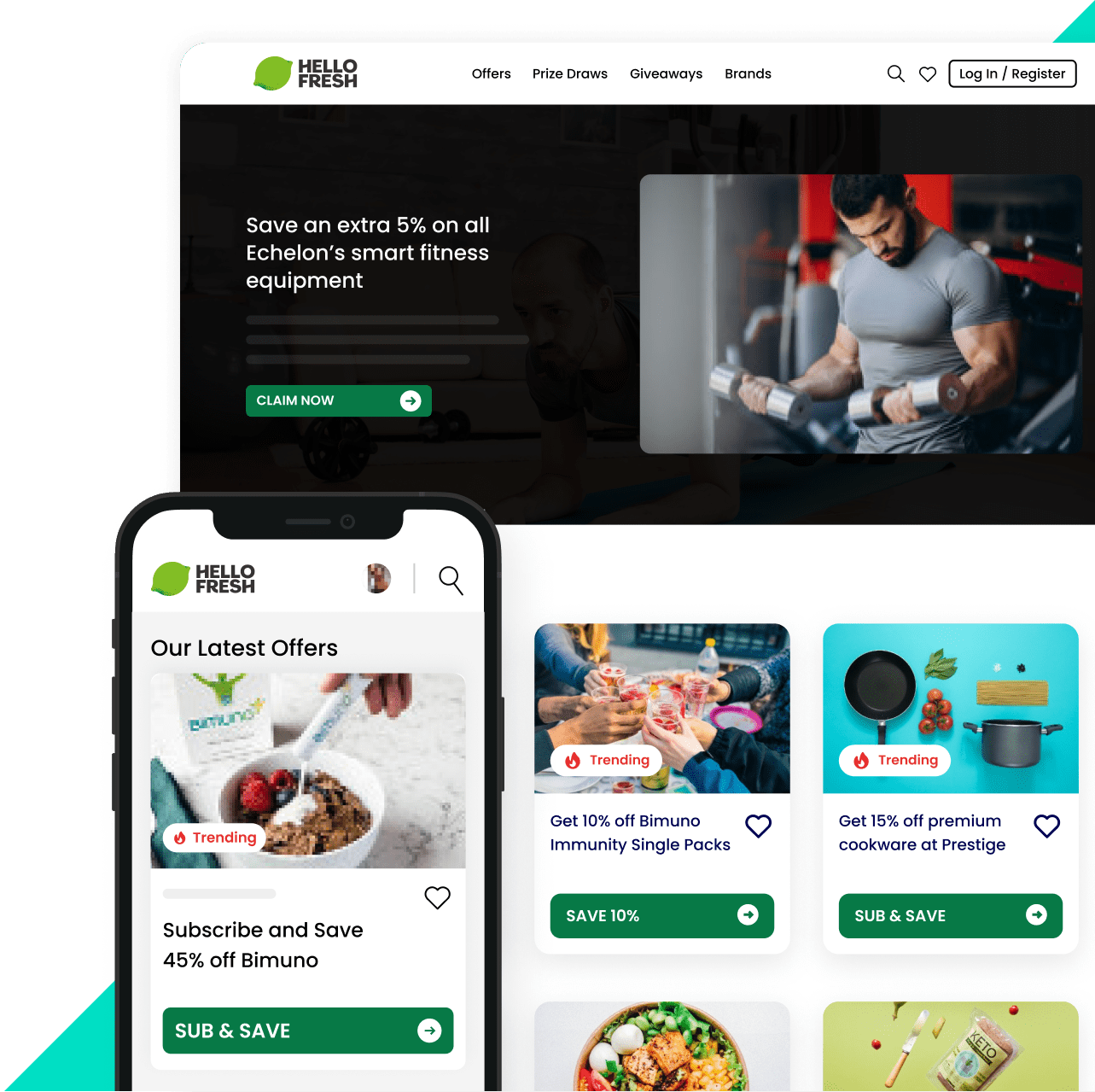 Rewards Engine
Drive Desirable Customer Behaviour With Triggered Rewards
Trigger incentives once a customer performs a desirable action, such as a subscription renewal or a referral.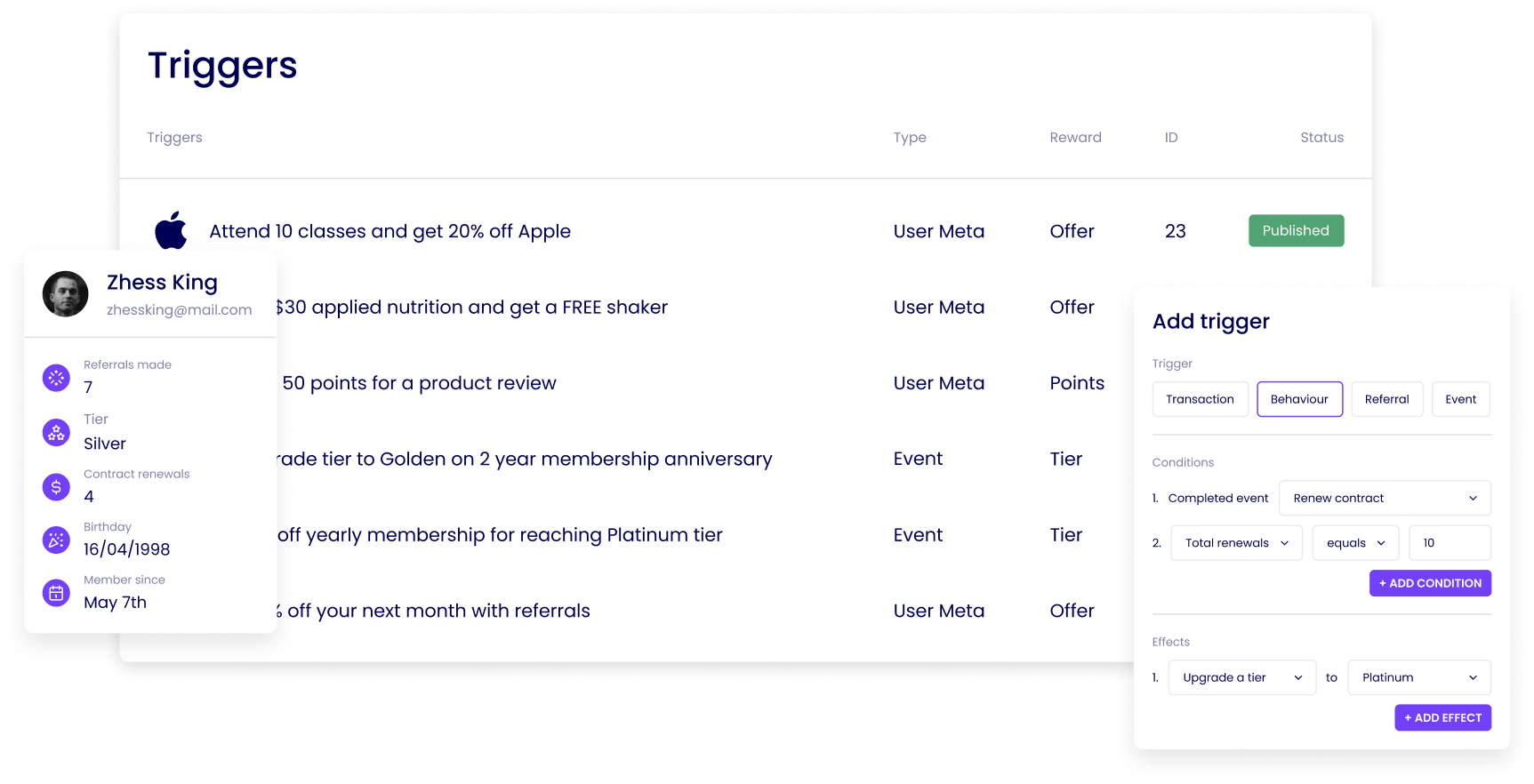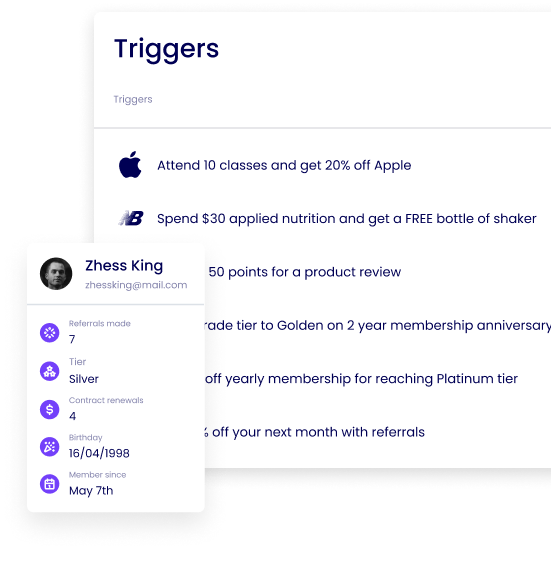 Loyalty Mechanics to Build a Programme of Any Shape
Behaviour triggers

Trigger incentives when a member takes the desired action, such as subscription renewal.

Referral triggers

Trigger incentives when a member refers a friend and the referee takes a desired action.

Event triggers

Trigger incentives when an external event happens, such as birthdays or membership anniversaries.

Transaction triggers

Trigger incentives when the member spends on specific brands using a card linked to the member portal.
Rewards
Unlock valuable rewards
Points
Add points that they can burn
Tiers
Unlock benefits linked to the tier
Members Manager
Onboard Users
And Manage Access
To Your Loyalty Programme
You can onboard users via API or pre-load their data within the platform dashboard.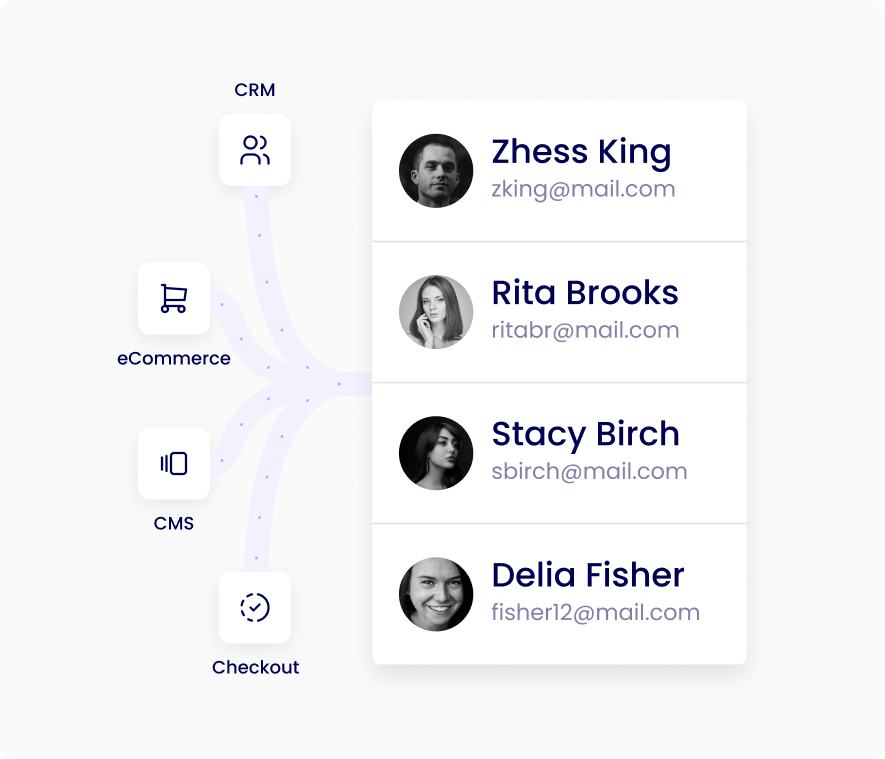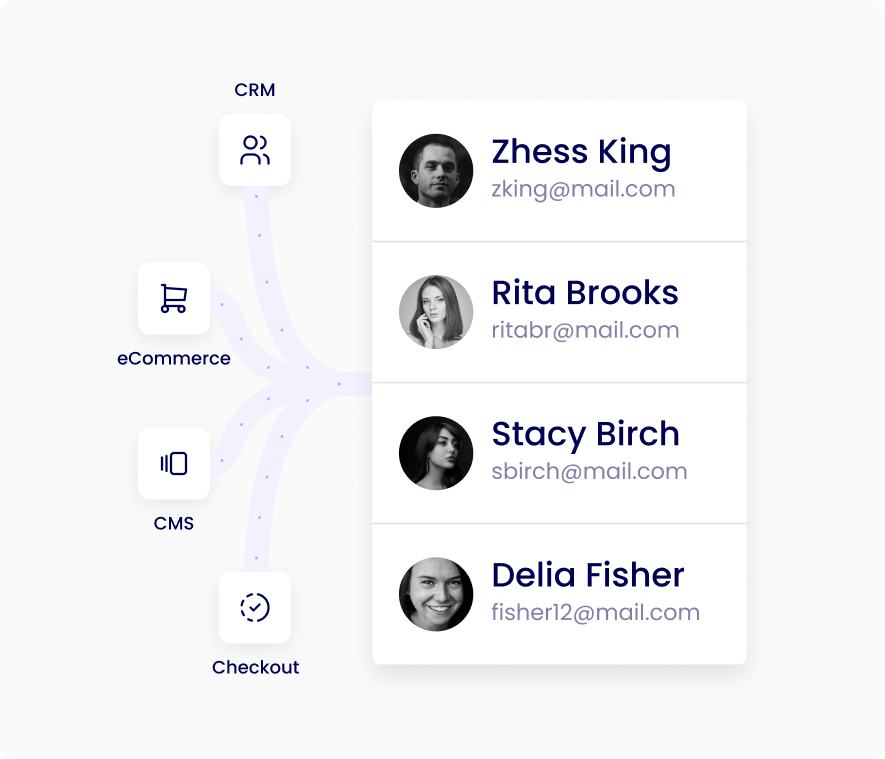 Rewards Manager
Add, Edit and Publish Rewards In Your
Programme
Add custom rewards manually or import the ones from our catalogue of rewards from 1000+ global brands.
PROGRAMME REPORTING
Improve The Performance Of Your Loyalty Programme Over Time
Account Activations

Track how many customers completed the onboarding process.

Reward Redemptions

Track the total number of rewards redeemed by your customers.

Most Engaged Customers

Identify customers who actively interact with your customer loyalty programme.

Best Performing Rewards

Track best-performing rewards to find the most relevant ones for your customers.
Building Loyalty Software
In-House Can Take Years
and Cost a Fortune.
High upfront and ongoing costs
Requires technical resources
Long time
to market
Compliance and security risks
You Need Customer Loyalty Software That Works Out of the Box
WHITE LABEL PLATFORM
Launch In a Matter of Days and For a Fraction Of The Cost
Iframe your reward portal directly into your environment with just a few lines of code. Or host it under a custom domain.
Frictionless Redemption
Drive More Redemptions With UX Tested By 1,000,000+ Members
Our CRO team constantly works to reduce
the friction in the redemption process.
Scalable Platform
Scalability, Compliance, Security & Fraud Prevention — All The Boring Things Done for You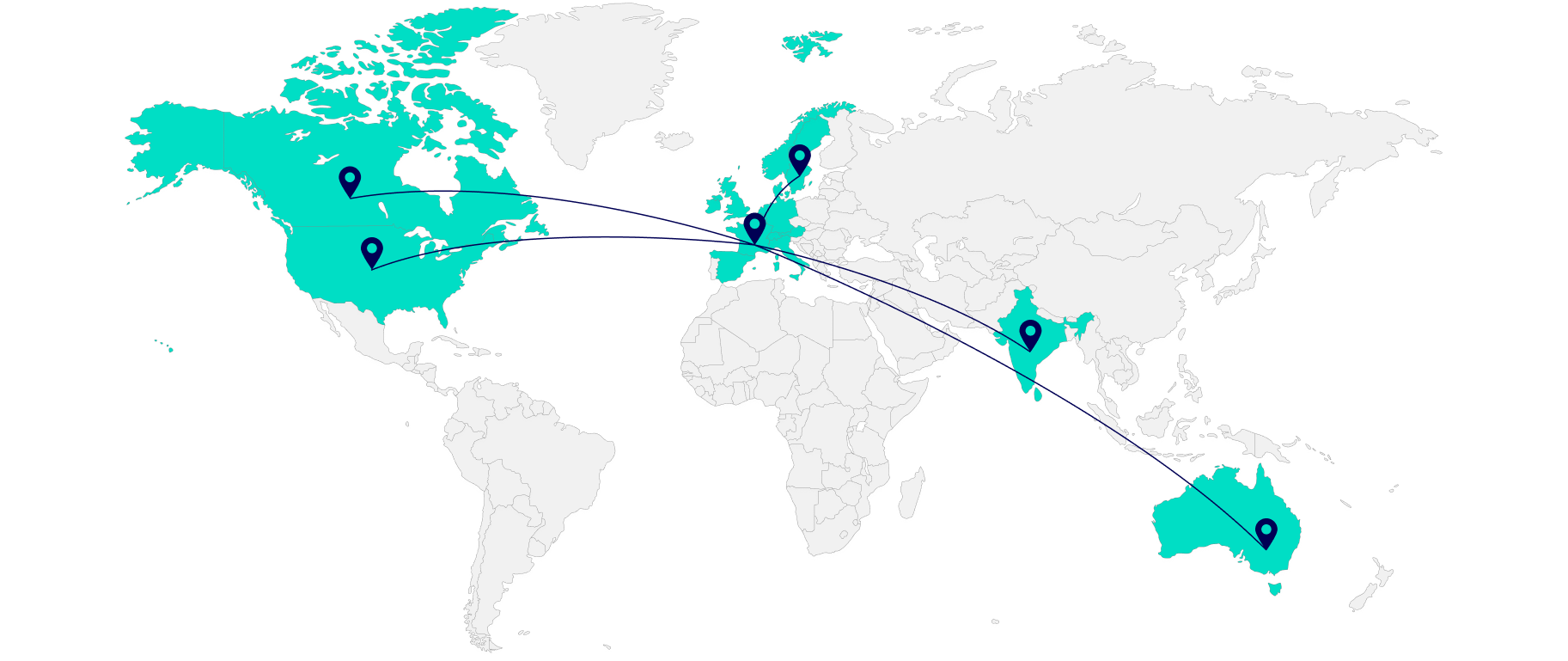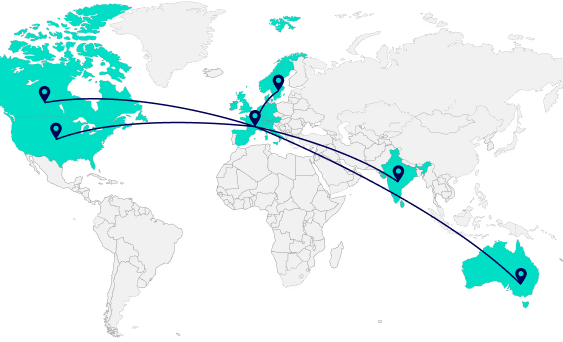 Scalable
Whether you have an audience of 1,000 members or 1,000,000. Every member will get a consistent experience.
Global
Manage international loyalty programmes with multiple langue support and group management.
Compliant & Secure
We uphold the highest security standards and have a 24/7 SoC team that monitors and responds to cyber threats.
Fraud-protected
Propello leverages proprietary fraud detection algorithms and leading anti-fraud vendors to protect your programme from fraud.
Discover More Ways ropello Accelerates the Launch of Your Loyalty Programme
Loyalty Programme Offers
Reduce time to market, build value immediately and create hyper-relevant experiences with our extensive brand partner network.
Learn More >
Loyalty Programme Management
Zero-effort programme launch & management
with ongoing marketing support.


Learn More >